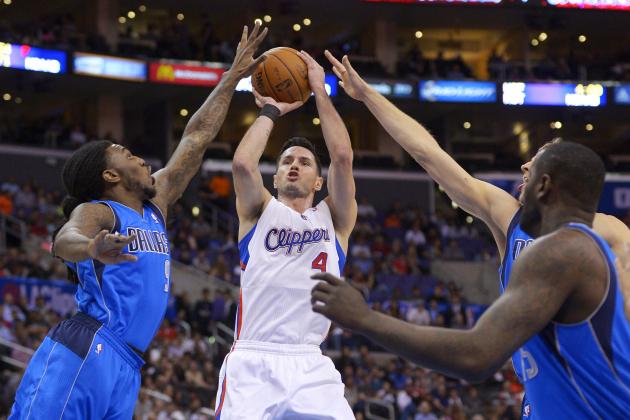 The first round series between the San Antonio Spurs and the Los Angeles Clippers offers NBA fans a possible peak into a changing of the guards in the Western Conference. The Spurs, five time NBA champions, have been the toast of the West, a perennial playoff team since they drafted Tim Duncan in 1997. This years playoffs might be a swan song for Duncan, the aged but savvy veteran whose legendary, and lengthy, career is one of a kind. Duncan, who turns 39 this week, has played his entire career for the Spurs and for Coach Gregg Popovich. The 15x NBA All-Star is considered by many to be the greatest power forward to ever play in the NBA.
The Clippers are the exciting "other" team from Los Angeles. They have All-Stars in Chris Paul ("CP3") and Blake Griffin and a rising star in DeAndre Jordan, arguably one of the top centers in the NBA. During the 2013 off-season, they lured Doc Rivers to LA after nine seasons with the Celtics that included a championship season with the singular purpose of bringing the often overlooked franchise its first NBA title. Since Rivers' arrival, the Clippers have enjoyed unprecedented success and increased popularity and enter this year's playoffs with realistic championship hopes.
Both the Spurs and the Clippers enter the playoffs riding heatwaves, having won nine of their last ten games, making this series quite possibly a premier first round match-up and the only series realistically worthy of a seven game series. Both teams features players from areas that Hardwood Insiders ("HI") covers. These players will have an impact on the series. Here's how:
Danny Green/San Antonio Spurs/6'6 G/F
Hometown: North Babylon, NY
High School: North Babylon / St. Mary's (Manhasset, NY)
2014-15 NBA Stats: 11.7 PPG/4.2 RPG/2.0 APG
HI's Scoop: The former second round draft pick from the University of North Carolina is enjoying his best season as a pro, and has come into his own as a starter for the Spurs this season. As a starter, his minutes per game have risen as well as his shooting percentages. Green, along with 2014 NBA Finals MVP Kawhi Leonard, is one of the youngsters in the very veteran Spurs starting lineup. In last year's NBA Finals, Green turned in two tremendous games to help the Spurs overcome the Miami Heat and the Spurs will once again look to Green for his three point shooting prowess. In the 2013 finals which the Spurs lost, Green broke Ray Allen's NBA Finals record for three point goals made and set a new record with 27. In last season's finals, which the Spurs won, Green hit a number of key shots as well as provided tough defense on LeBron James. An improved Green this season will be beneficial to the Spurs as they look to preserve their veterans' minutes by playing their younger players more. Green will most likely be matched up against Matt Barnes, an energetic player and tough defender. While Green will never be the first or second option on offense, his ability to knock down the three and stretch the floor will be a bonus as the Spurs face the much younger and more athletic Clippers.
Kyle Anderson/San Antonio Spurs/6'9 F
Hometown: New York City, NY
High School: St. Anthony (Jersey City, NJ)
Stats: 2.2 PPG/2.2 RPG
HI's Scoop: The versatile rookie from UCLA spent much of his first season in the NBA playing for the Spurs' D-league affiliate in Austin. Anderson showed glimpses during the season and scored in double digit in two games. On a veteran team such as the Spurs, it can be difficult for younger players to find their way. The Spurs have relied on steadiness to rack up wins and championships and Kyle Anderson has yet to fully be engaged in the system long enough to earn the trust of Gregg Popovich. However, injuries happen in sports and Anderson's immense versatility make him valuable. He has the height of a forward while possessing the ball handling ability of a guard. In the event of injuries or foul trouble for one of the Spurs' key players, Anderson might be a player the team looks to play a variety of positions.
J.J. Redick/Los Angeles Clippers/6'4 SG
Hometown: Cookeville, Tennessee
High School: Cave Spring (Roanoke, Virginia)
Stats: 16.4 PPG/2.1 RPG/44% 3PT
HI's Scoop: The former ACC Player of the Year from Duke is coming off his best season, including career highs in points per game, three point percentage and field goal percentage. As a full time starter, the ten year veteran has meshed with the high tempo offense of "Lob City" and become a shooting ace for the Clippers. Redick was sixth during the regular season in 3-point field goal percentage and a huge reason the Clippers were the third best three point shooting team, two spots above the Spurs. The Spurs will attempt to stifle Redick, putting the taller Green and Leonard on him in hopes they can limit his long range damage. The Clippers and the Spurs are two teams that shoot the three pointer well and it will be on Redick to lead the way for LA. For the Clippers to keep pace or better with the Spurs, then Redick must continue his hot hand.
Dahntay Jones/Los Angeles Clippers/6'6 G/F
Hometown:Trenton, New Jersey
High School: Steinert (Hamilton, New Jersey)
Stats: 0.6 PPG/0.3 RPG
HI's Scoop: The 34 year old journeyman is little more than a tenth or eleventh man at this point in his career. He only played in 33 games this season and averaged less than four minutes a game. The Clippers are young and fast and Jones provides little to nothing in terms of his play for them but he's a veteran player with a decent number of playoff games. While Jones might be needed for mentorship, it's unlikely he sees many minutes in this series.
x Manny Geraldo
Follow us on Twitter @insiders13
Photos courtesy of mysanantonion.com and bleacherreport.com
©2015 Hardwood Insiders. All rights reserved. This material may not be published, broadcast, rewritten or redistributed.