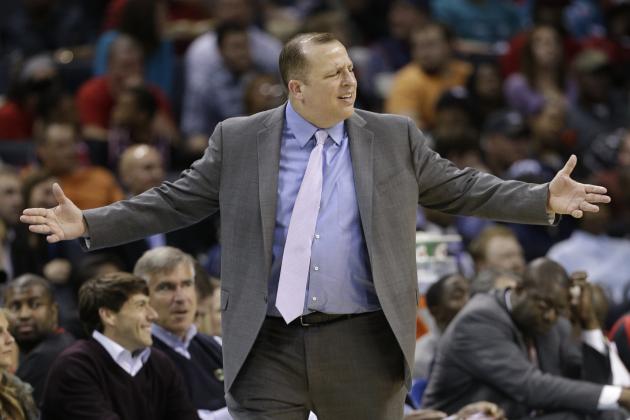 The outcry over the Bulls' firing of Tom Thibodeau is misplaced. The Bulls' front office has for decades had issues with their coaches, it's a moot point. Criticism for the front office and the way they have handled this firing and the departure of Phil Jackson is well deserved. That said, "Thibs" had it coming. He knew who was dealing with and still chose to coach the Bulls his way.
Mark Jackson coached the Warriors to 51 wins last year. The Warriors also fired Mark Jackson last year for two reasons: he did not get along with the front office and he ran an offense based on isolation plays that did not take advantage of his talent. Very few shed tears for Mark Jackson. He was repeatedly derided for his inability or unwillingness to run a more creative offense.
The Bulls problem during the Thibodeau era? Offense. In 2011, Thibodeau allowed the MVP of the league, Derrick Rose, to be taken completely out of games in their lone Eastern Conference finals appearance during Thibodeau's five-year tenure. Rose shot 35% from the field for the series.
In this year's conference semis, the Bulls had performances of 84 and 73 points against an injury hobbled Cleveland Cavalier team. It has been widely reported that the Bulls asked Thibodeau to hire an assistant that could engineer a better offense. No such hire was made. The Bulls' front office reportedly wanted their star players' minutes to decrease. I think Jimmy Butler may have just come off the floor.
Sure Thibodeau won close to 65% of his games, with Derrick Rose playing less than half. Clap for 'em. But, the Bulls are in the same Eastern Conference that has been labeled by many to be the "Junior Varsity" of the NBA. There is no doubt that Thibodeau is a talented coach but after five years it's not in the Bulls or Thibodeau's interest to stay in this unhappy marriage.
Disagreements at work are bound to happen but if you do not talk to your boss for months it's safe to say you need to find a new job or have already been fired. The default position of most sports writers and analysts is that professional sports are a business. Business is about results, largely devoid of emotion and sentiment. But, results, especially mediocre results, lose their impact when the people making decisions can not work with you. When Thibodeau gets hired as a coach again, he will simply need to win more to run the team how he wants or suffer the same fate.
Photo courtesy of bleacherreport.com
x Ernest McNealey
Follow us on Twitter @insiders13
©2015 Hardwood Insiders. All rights reserved. This material may not be published, broadcast, rewritten or redistributed