Dwayne Wade has been at the center of speculation and rumors regarding his future with the Miami Heat. Wade and the Heat front office are reportedly at odds over his contract and there's speculation that Wade will opt out of the final year on his Heat contract and become a free agent on July 1.
The Heat plan to offer point guard Goran Dragic a 5 year/ $80 million dollar once free agency begins. Last season, the Heat re-signed forward Chris Bosh to a 5 year/ $118 million dollar. Wade took less money in 2010 so the Heat could bring in LeBron James and Chris Bosh and form the big three that would eventually win two NBA championships. Nearing the end of his career, Wade is looking for a hefty "last meal".
While Heat fans would hate to see the departure of one of the franchise's most beloved stars, the NBA is a business. There's a bottom line for every team, owner, and player. If Dwayne Wade is unhappy with his current contract and believes he deserves a better one, then he should go after it. Remember, you don't get what you deserve, you get what you negotiate.
While his health has been a concern, Wade is still a very productive player in the NBA. Wade averaged 21.5 points and 4.8 assists per game last season for the Heat in 62 games. He has three championships worth of experience and can still be a clutch performer.
Even though he turns 34 next season, there are many teams that would be interesting in signing Dwayne Wade to his last professional contract. Given his age, it's probable that teams would be interested in a three/four year contract. Given his competitiveness, young and rebuilding teams would likely not be of interest to Wade. He's a winner and would be seeking a team looking to add some hardware to its trophy case.
In reality, it's hard to imagine the Heat not doing everything possible to make sure Wade remains with the only NBA team he has ever played for. But again, the NBA is a business.
If Wade were to depart Miami, these are three teams that would be intriguing landing spots for the 11-time All-Star.
What stands out as the most obvious landing spot for Wade outside of Miami this off-season is his hometown, the Chicago Bulls.
The East is the weaker conference and with the addition of Wade, the Bulls would be favorites to contend against the Cleveland Cavaliers for the Eastern Conference title. Wade met with the Bulls during free agency in 2010 before deciding to return to the Heat.
The Bulls have new coach Fred Hoiberg and must resign Jimmy Butler to a max deal. A possible Derrick Rose, Wade and Butler backcourt is very intriguing. For Wade, he no longer would be called on to carry the team offensively. That would rest on Butler's shoulders.
For the Bulls, signing Wade adds another much needed offensive weapon. Since the 2011-12 season, Rose has played in just 100 out of 246 possible regular season games. Rose's health has to be a concern for the Bulls. With the addition of Wade, Rose could play less minutes and if he suffers another injury, Wade and Bulter can carry the load just fine.
Wade turns 34 next season so a three year deal would be the best fit for him and the team which would give Wade three knocks at winning another NBA championship.
A really intriguing landing spot for Wade would be the San Antonio Spurs. Wade would get to play with a couple of surefire Hall of Famers in Tim Duncan and Tony Parker as well as with one of the greatest coaches in NBA history, Gregg Popovich.
The San Antonio Spurs have a lot of cap room and will be looking to make a splash. Shooting guards Danny Green, Manu Ginobili and Marco Belinelli are all free agents. Ginobili is strongly considering retirement and while the Spurs would like to hold on to Green for the long term, a short term contract with Wade would be hard to pass up.
Duncan has one season, maybe two left in his tank. The Spurs will be aggressively pursuing one last run with the big fella. Adding Wade, a three time champion, makes the Spurs a legit contender again.
Playing in the Western Conference could mean a possible match-up against friend and foe LeBron James in the NBA championship. The NBA has to salivate at the possibility of those tv ratings.
Sports Illustrated's Chris Mannix has linked Dwayne Wade with the Los Angeles Lakers and though that seems odd since Wade and Kobe Bryant both play the two-guard, the Lakers would be a very intriguing landing spot for Wade.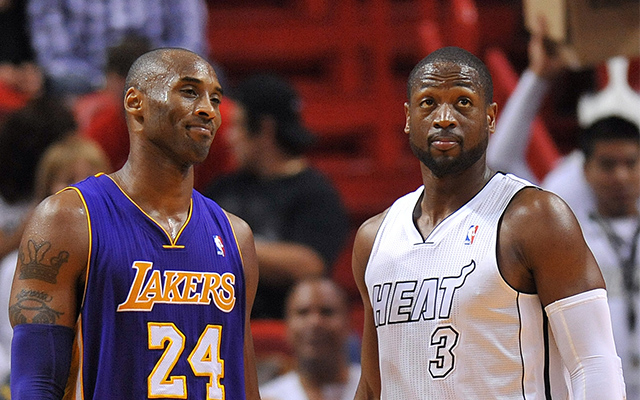 The Lakers won just 21 games last season and Kobe and prized rookie Julius Randle are recovering from injuries. That doesn't sound like a promising destination for a player seeking to win another championship. However, Randle is young and can bounce back. Kobe's drive is unmatched and even the biggest doubter has to believe he'll be ready and focused on steering the Lakers' ship in the right direction.
The Lakers hold the second overall pick in the upcoming NBA Draft, which is likely to be Duke center Jahlil Okafor. Okafor alongside Randle gives the Lakers a very young but talented front court. With the Lakers cap room, they can afford to sign Wade as well as another starter, possibly Rajon Rondo. With a possible Rondo/Bryant/Wade/Randle/Okafor lineup, the Lakers would not be contending for the championship right away but they could steal a playoff spot.
The biggest question mark would be how Kobe and Wade would play together? Both are shooting guards. Could the Lakers effectively experiment with a "small" lineup where Kobe and Wade play alongside each at the guard/forward positions? It's intriguing.
Los Angeles is an alluring city with the climate and social scene similar to Wade's in LA plus his wife, actress Gabrielle Union, probably wouldn't hate him playing in the epicenter of her vocation. If the Lakers open the wallet and Kobe can sell Wade on the team improving drastically, the Lakers could be a destination for Wade.
NBA free agency begins July 1 and if Dwayne Wade decides to opt-out of his contract with the Miami Heat, it will be interesting to keep tabs on where Wade could possibly end up.
Photos courtesy of nypost.com, cbssports.com.