As top picks in the 2015 NBA Draft, both Karl-Anthony Towns and Jahlil Okafor entered the NBA with big expectations. So far, both have lived up to them.
Towns was selected number one overall by the Minnesota Timberwolves after one season at Kentucky. Okafor was selected by the Philadelphia 76ers with the number three overall pick after one season at Duke. Both players' careers have been closely tied to each other since their days as elite high school recruits. Entering the NBA Draft, there was much debate between which player would be taken number one overall.
While the NBA has increasingly become a guard oriented league, the need for a quality center still looms as a key to winning a championship. However, there has been a dearth of quality centers. One reason for this is that college basketball teams frequently run guard heavy offenses that have seemingly dissipated the need for a traditional center. Another reason is that centers have adopted a more European style of play that places a heavy emphasis on athleticism, in turn, creating more of a hybrid forward-center position. Anthony Davis is a prime example of this type of player.
The last center to win an NBA MVP was Tim Duncan in 2002-2003. Depending on whom you ask, Duncan is often considered a power forward. However, that was the tail end of the NBA era where centers were focal points of offenses. Shaquille O'Neal won MVP for the 1999-2000 season. David Robinson won NBA for the 1994-95 season and Hakeem Olajuwon won MVP for the 1993-94 season.
As top picks in the NBA Draft, Towns and Okafor represented a returned value on the center position. The 2015 NBA Draft was similar to the 1992 NBA Draft which featured two centers with the top two picks: Shaquille O'Neal was selected number one overall by the Orlando Magic and Alonzo Mourning was selected number two overall by the Charlotte Hornets.
Towns has made an immediate presence on a Timberwolves team that has not made the playoffs since the 2003-2004 season. Along with last season's ROY winner Andrew Wiggins, Towns gives the Timberwolves' franchise and fans a bright future. Towns currently leads the Timberwolves in rebounds per game (10.2), blocks per game (2.2), and field goal percentage (48.8). He is also the team's second leading scorer at 15.5 points per game and he's posted six games with a double-double. Towns leads all rookies in rebounds per game, blocks per game and surprisingly, free throw percentage.
As the 76ers limp out to a woeful 0-10 start, Okafor has emerged as one of the few bright spots for the franchise. He leads the team in scoring per game (19.2), blocks per game (1.8) and is second on the team in rebounds per game (7.3). He has recorded two double-double games and scored 20 or more points in six games. Okafor leads all rookies in scoring per game and minutes per game. The 76ers' disastrous start to the season does not inspire much hope for a playoff run, but along with second year players Nerlens Noel and Jerami Grant, Okafor gives Philadelphia a young foundation to build upon.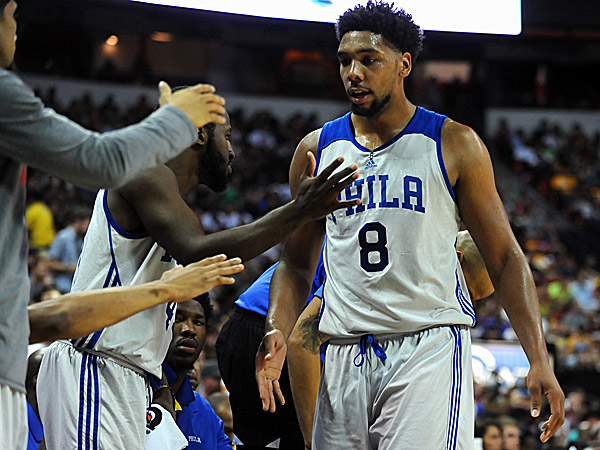 Ten games into their first NBA season, both Towns and Okafor have shown their worthiness as top five picks. Both are leading their teams in important categories and both are having really good rookie campaigns. While the season has just recently begun, Towns and Okafor are the early-on favorites to battle it out over the Rookie of the Year ("ROY") award. The last true center to win the award was Shaquille O'Neal for the 1992-1993 season. Forward/centers Tim Duncan, Pau Gasol and Emeka Okafor also won the award, but since 2005 the award has been won overwhelmingly by guards. If Towns and Okafor continue playing how well they have thus far, this year a center might end the drought and take home the award.
Photos courtesy of FoxSports, West Central Tribune, nba.com, and philly.com.