Last night's thrilling Maryland-Georgetown match-up resulted in much more than a 75-71 victory for the number three ranked Terps. It was a classic game that resulted in a renewed rivalry between two universities less than twenty miles apart. For two schools with rich basketball histories, it's unfortunate that they rarely play against each other.
On a personal note, I hail from the state of Maryland and grew up in Prince George's County where the university is located. I have connections to both schools and am a fan of both schools. My mother earned her bachelor's degree from Maryland, my second cousin as well, and I have scores of friends who attended the university and are proud alum. My father earned his LLM (Master of Laws) from Georgetown and my cousin Sam Jefferson played for the Hoyas from 1986-1990. John Thompson's presence in the DMV can not be explained in just words. To have a revered and decorated head coach be African-American in the District of Columbia meant so much to so many people in the DMV. I have long admired him.
At last night's game, former Maryland star Joe Smith, the College Player of the Year at Maryland in 1995 and the No. 1 pick of the 1995 NBA Draft, dropped in on his alma mater. As did former Maryland star and current Milwaukee Bucks guard Greivis Vásquez. Seeing those players, two greats in Maryland basketball history, prompted me to think up a "fantasy" team of Maryland greats and then subsequently a "fantasy" team of Georgetown greats. Who would make up this team and what would the outcome of a "legends game" between these teams be?
While an actual playing of the game is impossible, I did create a starting five line-up for both schools that includes two reserve players. Creating this starting five line-up was more difficult that originally expected. Both schools have great basketball history. Both have Hall of Fame coaches, a national championship apiece and multiple Final Four appearances.
The line-ups were based on players' collegiate careers. Players' NBA careers have no bearing on their inclusion or exclusion. There are notable absences such as as Steve Francis, a three-time NBA All-Star. While Francis was a second-team All-American and a finalist for the Wooden and Naismith Player of the Year Awards, he only played for Maryland for one season. A notable absence for the Hoyas is Mike Sweetney, the ninth overall pick in the 2003 NBA Draft. The burly forward from Oxon Hill HS was the Washington Post All-Met Player of the Year for 2000 and a dominant big man at Georgetown. Sweetney ranks top ten in Georgetown basketball history for points scored, scoring average, rebounds, rebounds average, field goals, and blocked shots. Sweetney's career at Georgetown is underrated because the Hoyas struggled during his three seasons and his NBA career fizzled out so quickly. However, Georgetown has produced legendary big men and Sweetney unfortunately came just a bit short on making the cut. The same could go for another half dozen players for both schools.
Limiting each school to seven players obviously will leave out great players. If you disagree with the line-ups, please comment and include which players you agree and/or disagree with.
Maryland Starting Five
G: Greivis Vasquez [2006-2010]
G: Juan Dixon [1998-2002]
F: Walt Williams [1988-1992]
F: Len Bias [1982-1986]
C: Joe Smith [1993-1995]
Reserves: Albert King [1977-1981], John Lucas [1972-1976]
Georgetown Starting Five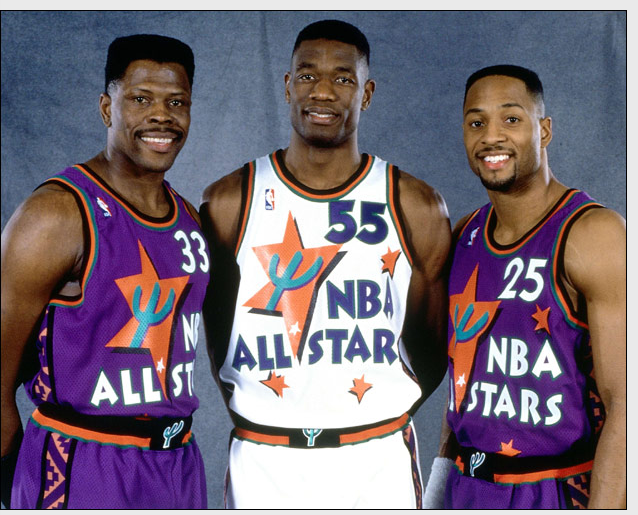 G: Allen Iverson [1994-1996]
G: Eric "Sleepy" Floyd [1978-1982]
F: Jeff Green [2004-2007]
F: Alonzo Mourning [1988-1992]
C: Patrick Ewing [1981-1985]
Reserves: David Wingate [1982-1986], Dikembe Mutombo [1988-1991]
The Hardwood Insiders Scoop
As previously mentioned, these teams are based on collegiate careers and not NBA careers. If these lineups were based on NBA careers, Maryland would lose by a landslide. The Maryland players above have not produced great NBA careers while the Georgetown players have. The seven Maryland players collectively have 0 NBA All-Star appearances. The seven Georgetown players collectively have 38 NBA All-Star appearances and one NBA MVP award (Iverson, 2001).
Tragically, Len Bias (pictured above), was never able to capitalize on his NBA potential. Drafted number two overall in 1986 by the Celtics, the two-time ACC Player of the Year would die just two days after the NBA Draft after using cocaine. Bias remains a hero at Maryland, in Prince George's County, and a cautionary tale to young athletes.
All of the players were exceptional college basketball players despite what their NBA careers might have been or might be. It would be too difficult to pick a winner here. There are mismatches abound. The one clear advantage would probably go to the front court where Georgetown's troika of big men (Mourning, Ewing, and Mutumbo) would be too much to handle for Maryland. All three Hall of Fame centers were dominant in college and Maryland does not match up well at all in that department. Only in basketball fantasies would this game be played. However, the Maryland-Georgetown rivalry has been renewed and hopefully for the fans, for the programs and for the region, the schools continue playing each other.
Photos courtesy of Complex, Fox Sports, Grantland, the Sentinel, USA Today and Baltimore Sun.